We have had some great feedback from our clients for our services, some of the comments and experiences we have heard so far are presented below.
Sharon, BA (Hons) Politics, Philosophy and Economics 
"Only had contact with Andy at the beginning. As a mentor representing the company, I feel Itrat is a credit to you. Very professional, punctual, attentive and has a fantastic way of communicating" (30/05/18)
Client Satisfaction 5/5 "Very Good" (+++++)
Christopher Oakes, BA (Hons) Creative Writing and English Literature
"The support I received was excellent. The mentor did a great job for meeting my needs for support" (11/05/18)
Client Satisfaction 5/5 "Very Good"
Helen, FdA Children, Young People and Their Services
"Scholars have given me the support and encouragement I've needed to find confidence in my academic ability and to manage my anxiety towards work" (11/05/18)
Client Satisfaction 5/5 "Very Good"
Tracey Gill, BA (Hons) Health & Social Wellbeing
"Mentoring support has been excellent and any issues are dealt with quickly and efficiently" (01/06/17)
Client Satisfaction 5/5 "Very Good"
Kelly Anderson, FDeg Children, Young People & Their Services
"The support I have received has been tremendous. The mentors are always just an email or phone call away which I have needed numerous times. Without Scholars I certainly would NOT have gotten through my course." (04/05/17)
Client Satisfaction 5/5 "Very Good"
Matthew Allen, HNC Business
"From the beginning Scholars Mentoring Company have supported me with my studies and have been there for me during my difficult times in my mental health. They have provided excellent study support ranging from attending classes, reading and suggesting additional information on assignments. All mentors and the owners of SMC are kind, thoughtful and very supportive." (18/04/17)
Client Satisfaction 5/5 "Very Good"
Chris, HNC Health and Social Care. 
"The support is very good, I've picked up some valuable lessons with regards to organisation, planning and researching" (February 2017)
Client Satisfaction: 5/5 "Very Good" 
Debbie Fairhurst, BSc (Hons) Counselling
Debbie became a client of scholars mentoring company during the academic year 2014/15 whilst returning to study a top-up degree for her BSc (Hons) Counselling course at Riverside College.
Debbie engaged proactively and comprehensively with her specialist mentor Sarah meeting up on a weekly basis throughout the academic course and so successfully completed her degree with a First Class award. Comments from Debbie in relation to her experience of appointing scholars mentoring company.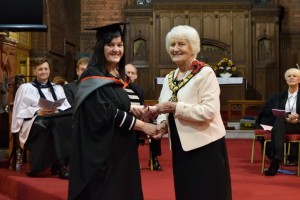 "After a lifetime of being  told by my peers and my Dad that I would amount to nothing ! I would like to take this opportunity to show off my FIRST CLASS honours degree. With the help and support from Scholars, I felt confident enough to do this honours degree. I would like to say to anybody who is struggling or suffering from a mental illness that it is still possible to achieve your full potential, as I have suffered with P.T.S.D and depression for many years. Scholars enabled me to see that I had the potential all along, I just needed the right support and guidance and thankfully scholars were there to offer this to me. Thanks guys keep up the good work, your support has changed my life, the future is now exciting and colourful and now thanks to you I have the tools to tackle anything."
Shauna Barton:
"Scholars Mentoring Company are lovely they came out and talked about how they can help me and give me confidence. Sarah is amazing, honest and she's always there for me. I couldn't ask for a better mentor. She has also become my friend too. I didn't think I could go to university but she made it happen. Thank you so much for a great opportunity."
Craig Ballard, HNC Health & Social Care:
"Scholars have supported me going back into my studies. I knew I could if I tried but I have never felt so encouraged as I have by them. People told me it was too difficult and too much of a challenge but scholars worked with me, supported me and catered for my specific needs and adaptations as well as being flexible whilst studying. I believe it is important to have trust and a non-judgemental attitude always and I really appreciate everything that they do for me. Even when I am struggling they have been there for me."
Wendy Keogh, MA Photography:
"Scholars have been a godsend for me. They have supported me whole heartedly and helped me with day-to-day tasks such as filling out simple forms and helping me with my organisational skills. They are a great team and put their heart into everything they do."
Jan Monoghan & Carol Hepburn @ West Lancs Arc Charity:
West Lancs Arc based in Skelmersdale, are pleased to welcome all members of the community, offering free advice, sign-posting service to other providers and support to clients with issues such as homelessness, unemployment, housing, Financial matters.
Feedback received from some of their clients;
"Meeting Scholars Mentoring Company has changed my life, I never thought I would be able to go to college"

"Having the support from Scholars Mentoring Company has meant I have been able to make a new start that will help towards getting a proper job in the future"

"It has been a great boost to my health and well-being knowing that I have support from Scholars Mentoring Company whilst studying"

"Having health problems and a young family, I never thought I would be able to go back to education, but with all the help from Scholars Mentoring Company I have been able to turn my life around"
Anonymous testimonies:
"Having a mentor has helped me in many ways. Before I had my mentor I was struggling with the pressures of university life. I felt overwhelmed by the essay questions and lacked in confidence.  My mentor has helped me to organize my thoughts and tackle essay questions in a systematic way with the use of a plan. I also struggled with sentence structures so my mentor has helped me to rewrite sentences so that they make sense and put my point across clearly. Having my own personal mentor has proven to be invaluable. My writing is of better quality and I now feel more at ease when approaching assessments. As a result my confidence has grown and I am proud of what I have achieved. I would like to thank my mentor for all her help and support."
Anon, Foundation Degree
"It was helpful and reassuring. Sometimes my mind would be so busy I'd overthink things and my mentor would guide me back to the right track and offer support to work through where my focus should be." (31/07/17)
Client Satisfaction 5/5 "Very Good"